How YWAF works
The Trustees are Nick May, Keith Wetherill, Ann Ralls, Sue Crisfield, and Jane Copestake, who meet bi-monthly and are joined by a representative from Mendip YMCA. We pride ourselves on being flexible and able to respond rapidly if needed. Many funding requests are dealt with at the meetings, but if an urgent request comes to us, a round-robin email to the Trustees can generally have a decision within 24-48 hours, with funding and grants obtained and given within one week. Grants are given unconditionally and with as much dignity to the young person as possible – there is no means-testing, just a request from a support worker will suffice.
Our main source of income comes from the team that work at Glastonbury Festival, giving out Bags for Life at the entry gates and with various stewarding jobs. In 2015 we received £4,000 for our efforts! We also try to have a presence at Collett Day with our fund-raising stall, help with collecting at Shepton Mallet Carnival and our Every Penny Counts appeal raises several hundred each year, where people donate their loose change to us in a jam jar!
The foundations of the Trust lie within the Christian faith and each of the trustees are motivated by this to care for people in distress and difficulty - to be the hands and feet of Jesus - to bring the compassion of God into people's lives.
Our Patrons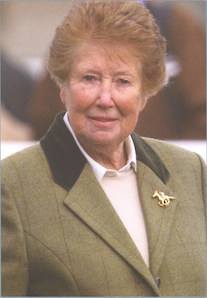 Angela Yeoman
OBE, DL
She was the former Chairman of Foster Yeoman Limited, which was the largest privately owned quarrying company in Europe. She is a Hon Fellow for the Institute of Quarrying 1st October 1990, Freedom of the City Of London Citizen & Pavior of London, The Company of Watermen & Lightermen of the River Thames, Doctor of Laws Camborne School of Mines 2002 and she was been honoured with the Worshipful Company of Paviors Medal of Excellence.
Mrs Yeoman was formally the Chair of the Somerset Community Foundation and sits on the Committee of many other charities where fundraising and donations to worthy causes are involved. One such role was Patron of Frome Victoria Hospital fundraising appeal, to equip the new hospital planned for the town. She is active in promoting access to the countryside for walkers, biking and horses, and is a trustee of the TTT (The Trails Trust), she was presented with the BHS Riders charter award 2003 and she is a trustee for the Somerset Building Preservation. She is a Patron for PAC (Positive Acton on Cancer). Mrs Yeoman is also Deputy Lieutenant of Somerset and a former High Sheriff of the County.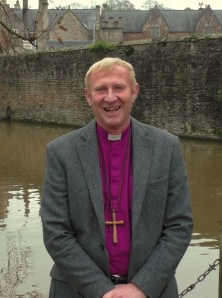 The Right Reverend Peter Hancock, Bishop of Bath & Wells
Bishop Peter was born in Kent in 1955, but grew up in the Isle of Wight before his family moved to Fareham, Hampshire when he was aged 11. He is a member of the Society of Ordained Scientists and has an interest in the relationship between science and Christianity.
The Rt Revd Peter Hancock read Natural Sciences at Selwyn College, Cambridge and then studied for ordained ministry at Oak Hill Theological College and has been in ministry since 1980. Children and young people have been at the centre of his ministry. Previously he has undertaken youth work in parishes, helping organise venture holidays. He was also district scout chaplain and has a long association with scouting and guiding.
Bishop Peter's love of the countryside translates into a strong interest in rural and environmental issues. This, alongside encouraging children and young people, and supporting the homeless and most vulnerable in society, forms what Bishop Peter describes as the "three threads" of his ministry. Bishop Peter's interests include walking, meeting people, travelling and watching sport. He has particular concerns for the environment and the work of mission and development agencies.
The YWAF trustees are delighted that in December 2014, Bishop Peter has agreed to join Angela Yeoman as a Patron.